Juana Arias (Juanita Arias) is a Columbian TV and film actress known for The Five Juanas, Narcos, Mexico, El Señor de Los Cielos (2013), and Run Coyote Run (2017), Like You There Are Not Two, Android Insurrection (2012) & The Spoiled.
She is also recognized for acting in Bastards y Diablos, How To Survive Being Singl, and more recently in Netflix's emerging hit series, The Five Juanas. Juana Arias is quite famous among the public with her socials accounts hundreds of thousands of followers.
In today's article, you all will come to know about the model/actor's personal life as well as the professional beginnings all details are given below.
Mother of Juana Arias' Is A Journalist:
Juana Arias was born in Bogota, on the 6th of May in 1989. She is the daughter of the well-known journalist Amparo Perez from Canal Caracol.
When Juana was only 10 she was already in front of the cameras being the face of various television commercials. She does her study at Andean School in Bogotá.
As a youth, the Bogotá-born actress shifted to the United States to study at the prestigious Lee Strasberg Academy of, New York for acting. The other notable alumni of the Academy include Angelina Jolie, Scarlett Johansson Alec Baldwin, Steve Buscemi, Matt Dillon, Robert De Niro Bridget Fonda, and, among others.
The career of Juana Arias:
Juana spent her initial learning career in London studying cinema.
While being in the US, she appeared as an extra in the film Men in Black 3 featuring Will Smith and Tommy Lee Jones. However, she was also played a role as a crew member in series such as 30 Rock and Panama.
After coming back to her home nation, Colombia, Juana Arias joined the cast of the telenovela 5 viudas lose. In That same year, the Latino star featured in the series Mamá Tambien and Mujeres al Limit. In 2013, Juana Arias was among the casts of the film Dangerous Amores by Antonio Dorado Dangerous. In the film, she is highlighted alongside Marlon Moreno and Kathy Sáenz.
The next year, Juana returned to the cinema with Demental, a horror film by the director, David Bohórquez.
Afterward, the Columbian actress began to split her time doing Columbian & Mexican projects; being part of the cast of series such as Sincronía (2017), Las malcriadas (2017), El Señor de Los cielos (2018), En Otra Piel (2014)
Recent Projects of Juana Arias:
In 2018, Juana also represented Claudia in Netflix's Narcos: Mexico. After two years, she played Valeria in The Stars' Like You There Are Not Two, and Juliet in Prime Video's How To Survive Single.
In 2021, Juana performed in HBO Latina's The Girl Wiping. In That particular year, she also gained wide fame for playing in Netflix's mystery series, The Five Juanas. Juana Arias is one of the leads in the series led by other famous Mexican TV & telenovelas names like Renata Notni, Zuria Vega and Sofia Engberg, Oka Giner. She has also been into films including Zambo Dende: Demental, Amores peligrosos, Android Insurrection, Hombres de negro 3, Predictable night, Bastards y diablos, D, and Drama Class.
Why Juana Arias Doesn't Want To Become A Typecast Actress?
In an exclusive interview with El Comercio in June of 2021, Juana Arias revealed that she had fought a lot not to be pigeonholed.
She explained she understood how to speak neutral for which she was able to make Mexican characters, as a Julieta (How to survive single) or housekeeper. All the characters were either super outgoing, zero strawberry, relaxed girl, or others, like Angela (La girl who cleans).
Juana Arias said these traits were specifically what gave her the differential of being able to make a super-wide range of characters. Thereafter, she has been on almost all platforms: Amazon, HBO, Fox Latam.
Lastly, she proclaimed that she doesn't want herself limited to a single platform or a single type of character
Juana Arias Is Also An Influencer:
Adding to being an actress, Juana Arias is also an Instagram model & influencer.
She though says she never talks about what she eats, what she doesn't, or what she drinks because almost all actresses think that there are things that could affect people a lot.
Arias believes as an influencer, one cannot say that they fast the very day. The TV celebrity justifications by doing so they are going to put the lady who follows them on a fast. "And that doesn't help their body anyway," mentioned the Five Juanas actress, Juana Arias.
Does Juana Arias Have any Boyfriend?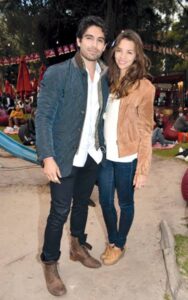 A few years back, Juana was seen periodically with Felipe Acosta, her boyfriend. On her 25th birthday, Felipe Acosta had allegedly surprised his Columbian girlfriend with a classic Cartier ring. Though as per the sources, it wasn't a proposal. The Girl Wiping star previously shared a picture of her and Acosta on her Facebook account in June of 2014.
Then in 2018, in an exclusive interview, when asked "who is your boyfriend?" the brunette-haired actress had replied, Nico Perdomo. What's intriguing is the fact that she hasn't dealt with the issue since. And nor has the couple ever been sighted together.
As of recent thought, looking at her social accounts, Juana Arias seems to be pretty much single.
Net Worth of Juana Arias:
While not in the paper, Juana Arias is very much concluded to be a rich actress with her net worth seemingly in the frame of hundreds of thousands of dollars or even millions.
Having occurred in more than ten series with a career that has been active since 2012, Juana Arias, as per reports, periodically ranks among the outstanding earner in the Mexican television industry.
More Facts About Juana Arias:
Juana Arias is from COLOüRSCMX Talent.
Juana Arias likes salsa and speaks German, French, and English.
She loves to hear songs from Grupo Niche & Marc Anthony.
Arias does not eat fruits or drink juices in the afternoon during the day.
Her favorite book is Obsession.
Arias loves salsa, reggaeton rock in Spanish, and hip hop.
Juana's favorite Columbian singer is Maluma.