While Pakistan Prime Minister Imran Khan is assuring the world that the culprits will not be spared, Defense Minister Pervez Khattak has justified the lynching of Sri Lankan manager Priyantha Kumara in Sialkot. Justifying the killing of Kumara by a hysterical mob, a top minister in the Imran government said it was the work of angry youth motivated by religious sentiments. Addressing the media, Khattak said that it is not right to blame the government for the incident.
Khattak statement on this incident:
He said, 'When it comes to religion, I will also get agitated and do wrong.' This statement of Khattak has started getting criticism in the country itself. Pakistani journalist Hameed-ur-Rehman said, "If Khattak is not removed from the cabinet immediately, it will mean that the assurances given by PM Khan to the Sri Lankan President and Foreign Minister are all lies."
Remains of his body reached Sri Lanka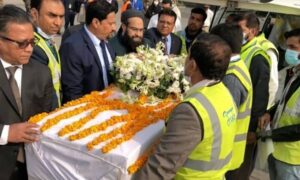 According to the News First channel, the body of the Sri Lankan manager of the textile factory Priyanta Kumara, who was killed in a mob attack on Friday in the Sialkot district, reached Colombo on Monday. Earlier, at the Lahore airport, Punjab's Minority Affairs Minister Ejaz Alam handed over the remains of Priyanka Gandhi's body to the Sri Lankan High Commission officials.
The mob wanted to burn the factory and kill the owner too
Pakistani police claimed that the mob also wanted to kill the owner of the garment factory by setting it on fire. According to the Express Tribune report, the mob that brutally murdered the factory's general manager and Sri Lankan national Priyantha Kumara had stored petrol in several bottles. The crowd was beating up the owner of the factory when the police reached and saved him.
All bones Sri Lankan manager were broken by the mob
All the bones of Kumara were broken due to the mob thrashing. His body had suffered 99 percent burns. So far the police have arrested a total of 131 accused including 26 chiefs. On Saturday, PM Imran Khan said a Tamga-e-Shujaat (an honor for bravery) to his aide Malik Adnan, who leaped into the crowd to protect a Sri Lankan national.
Police investigating the lynching of a Sri Lankan national on charges of heresy in Pakistan's Sialkot have alleged that the mob wanted to destroy its owner while handing over the garment factory. Including 26 chiefs, a total of 131 accused, have been caught by the police in this case so far.
As per the report, the mob that brutally killed the factory's Sri Lankan manager Kumara had stocked petrol in several bottles. The agitated mob wanted to set the factory on fire as well as kill its owner. The crowd was beating up the owner of the factory when the police reached and saved him.