According to research by McKinsey & Co., over 100 million workers in eight of the world's largest economies may need to bring a change in occupation by 2030 as the COVID-19 pandemic accelerates changes to the labor force. A report published on Thursday said that one in 16 workers in France, China, India, Germany, Japan, the UK, Spain, and the US will likely need to bring a change in occupation. For many, it will mean re-training to seek work in higher-skilled roles as the share of employment in low-wage occupations decline and the women, less educated, young people, and ethnic minorities will be most affected.
The report states that while many people have been trying to upskill in the past year, those working as retail salespersons, product promoters, tellers, production helpers, data entry operators, office clerks, legal assistants, and insurance underwriters will have to acquire new skills.
A rich mosaic of potential shifts in occupations in the years ahead is revealed by the results with important implications for workforce wages and skills. Their key finding is that while there may be enough work to maintain full employment to 2030 under maximum scenarios, the transitions will be very challenging, exceeding or matching the scale of shifts out of manufacturing and agriculture they have seen in the past.
Palisades Fire rises to 750 acres, evacuations ordered in Topanga
WHY AUTOMATION WILL INDUCE CHANGE IN OCCUPATION?
They previously found out that about half the activities people were paid to do globally could be automated, theoretically, using the currently demonstrated technologies. Less than 5 percent, very few occupations consist of activities that can be fully automated.
In about 60% of occupations, however, at least one-third of the constituent activities could be automated which implies substantial workforce changes for all workers.
It is not the only factor that will influence the extent and pace of automation adoption while the technical feasibility of automation is important. Other factors include the cost of deploying and developing automation solutions for specific uses in the workplace, the benefits of automation beyond labor substitution, the labor-market dynamics, and regulatory and social acceptance.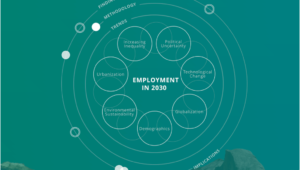 Their new research estimates, while taking these factors into account, that by 2030, between almost zero and 30 percent of the hours worked globally could be automated depending on the speed of automation. They mainly use the midpoint of their scenario range which is the automation of 15 percent of the current activities. By Countries, results differ significantly, which reflects the mix of activities currently performed by prevailing wage rates and workers.
Human resources expert Rainer Strack said in his TED Talk that we are running into a global workforce crisis when 2030 arrives, with a huge skill mismatch, an overall labor shortage, and a big cultural challenge.
Disney stock sells off; Here's the reason
He says that in the next decade, the big thing will be the high-skilled people and talents, however, they were a scarce resource and businesses have to work in order to understand them better.
The report highlights that, after the pandemic, three trends will persist in varying degrees. First will be the hybrid remote work that will be continued even after the pandemic but in degrees that will be differing.
The change in occupation has forced 74% of the workforce to be ready to learn new skills or re-train to remain employable in the future. Because of the change in occupation, 37% of people are worried about automation putting jobs at risk up from 33% in 2014.
Due to the change in occupation, 60% people think that few people will have stable and long-term employment in the future. The change in occupation has also made 73% of people think that technology can never replace the human mind.