Human rights violations: Tensions between the US and China are increasing. The US on Friday imposed human rights sanctions on more than a dozen establishments and people from China, Myanmar, North Korea, and Bangladesh, etc. China's artificial intelligence company SenseTime Group has been put on the investment blacklist. The company is accused of developing facial recognition software to identify minority Uighurs. Terming the allegations as baseless, SenseTime said that it has followed all the local rules.
America has taken this step on the occasion of Human Rights Day. Sanctions have been imposed against North Korea for the first time since Joe Biden became president for human rights violations. Wally Ademo, Deputy Treasury Secretary said in a statement that our sanctions today, mostly in alliance with the UK and Canada, send a message that democracies around the world will take action against countries that abuse and suppress state power. Sanctions have also been committed on three other Chinese companies.
The Chinese embassy in Washington has condemned the move by the US, saying it is serious interference in internal affairs and human rights violations. And calling it a violation of the basic rules of international relations. The US has imposed sanctions on the Directorate of Defense Industries, which manufactures weapons for the military and police in Myanmar. It was used in a February coup. In addition, sanctions have also been imposed against the chief ministers of four provinces, including Myo Swe Win, who heads the junta administration.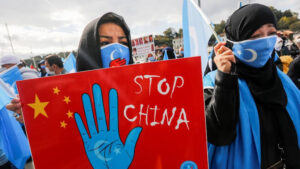 Canada has imposed new sanctions on four establishments linked to Myanmar's military government, while Britain has imposed new sanctions against the military. The Treasury has imposed sanctions against North Korea's Central Prosecutors Office and Defense Minister Ri Yong Gil. A Russian university has also been banned for providing staff to North Korea. Apart from this, a ban has been imposed against 12 people from China, Belarus, and Sri Lanka for Human rights violations.
These steps have been taken at a time when Biden has announced to take steps to strengthen democracy and make laws in its favor in America after the two-day Democracy Conference held virtually. Biden said Friday that the commitments made at the summit by leaders of more than 100 countries will end autocracy around the world and help combat corruption and promote human rights.
As indicated by the Assistance Association for Political Prisoners (AAPP) observing gathering, junta powers attempting to pound the resistance have killed more than 1,300 individuals.
Campaign group Global Witness said the actions missed the mark regarding focusing on Myanmar's gaseous petrol industry, which was a significant wellspring of unfamiliar trade for the junta, and "far-fetched to substantially influence the tactical junta's primary concern".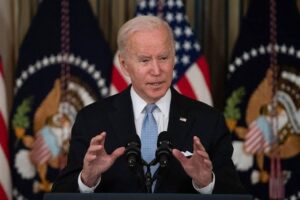 The Treasury additionally boycotted North Korea's Central Public Prosecutor's Office, just as selected previous Social Security Minister and most as of late Minister of the People's Armed Forces Ri Yong Gil.
It additionally designated a Russian college for working with the product of laborers from North Korea. North Korea has since a long time ago required the lifting of the US and worldwide approvals forced on its weapons programs and censured US analysis of its common liberties record as proof of an unfriendly approach against it. The Biden organization has over and over approached North Korea to take part in chats on its atomic and rocket programs, without progress.
The US State Department on Friday likewise banished 12 individuals from making a trip to the United States, including authorities from China, Belarus, and Sri Lanka.