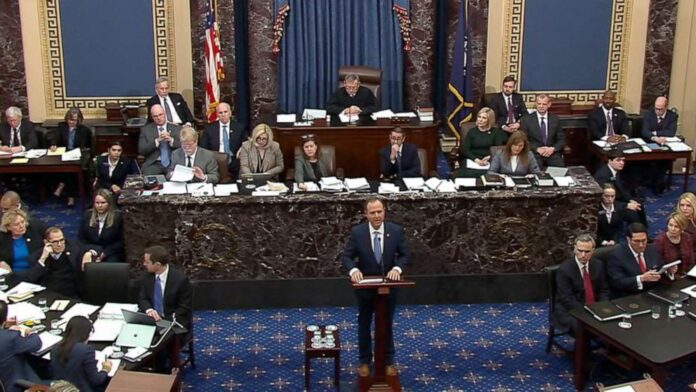 On Tuesday, the unprecedented Donald Trump's impeachment trial begins in the United States senate at 1 pm.
On Monday, represented by his attorneys David Schoen and Bruce L Castor who have filed a 78-page trial brief saying that Donald Trump's impeachment trial was violative of his right to free speech and due process, and was constitutionally flawed on account of the fact that Trump had already left office.
WHAT CHARGES HAVE BEEN MADE AGAINST TRUMP?
A large and violent mob stormed the US Capitol where lawmakers were in the process of confirming Joe Biden as the winner of the November 2020 presidential election immediately after Trump gave an incendiary speech to his supporters on January 6 asking them to fight like hell so that he could keep the White House.
The halls and chambers of the building were vandalized, five people were killed and hundreds injured, and the Capitol and members of Congress cowered for hours in hiding for fear pf being attacked or killed.
The House of representatives voted 232-197 on January 13 to approve a single article of impeachment that accused Trump of inciting violence against the government of the United States in an attempt to overturn the result of the election. It has also been asked in the article of impeachment that Trump should be disqualified from holding and public office again.
To vote for Trump's impeachment, ten House Republicans joined with the majority Democrats.
The House of Representatives formally sent the article of impeachment to the Senate on January 25 in order for the trial to commence.
However, the republicans and Democrats agreed on a few days' delay so that the lawmakers who would be prosecutors would get enough time to prepare and the opportunity could be used by the Senate to confirm some of the cabinet picks of Biden.
IS DONALD TRUMP EXPECTED TO BE CONVICTED?
If 67 Senators vote in favor, then only can conviction take place. Even after all 50 Democrats vote to convict, they would still need 17 Republicans to join them since the 100-member chamber is split exactly half and half. This seems highly unlikely.
In the immediate aftermath of the January 6 violence, the initial anger that was seen in some Republicans has now dissipated to a significant extent.
A test vote of sorts was held on January 26 which gave an indication of the number son either side. An objection was taken up by the Senate to declare Donald Trump's impeachment trial unconstitutional and end the trial even before it started. This objection was defeated 55-45 which indicated that out of 50 Republican senators, only 5 of them were willing to abandon their President.
It seems inevitable at the moment that Trump will escape with only the humiliation of having impeached twice barring an extraordinary late twist in the tale then. Trump will stay alive to fight another day and potentially run again for the White House once again in 2024.
IS TRUMP LIKELY TO APPEAR IN HIS OWN DEFENCE?
A request by the lead impeachment manager to testify at the trial has already been rejected by Trump through his attorneys. It is not expected that a subpoena could compel him to do so.
His lawyers last week said a flat no to that possibility even though a written statement had been under consideration at one point.
Ensconced in his Florida escort, Trump has been silent himself not only because he does not have access to Twitter any longer. Through his attorneys, he is expected to speak at the trial.
WHO ARE THE ATTORNEYS OF DONALD TRUMP?
David Schoen is a criminal defense and civil rights lawyer based in Alabama. According to a report in the New York Time, he has earlier represented the Ku Klux Klan as well as an array of sometime notorious clients, including rapists, mobsters, and killers.
In Montgomery Court in Pennsylvania, Bruce Castor is a former district attorney. According to the same NYT report, Bruce is most famous for his unapologetic defense of his decision in 2005 to not prosecute Bill Cosby after Andrea Constand, a Temple University employee, accused him sexually assaulting and drugging her.
Now 83, Cosby, author and stand-up comic, was convicted of multiple sex offences in 2018 and is now in prison.
The NYT Report said that the two attorneys have not worked together and it remains unclear who has primacy as the lead lawyer on the team.