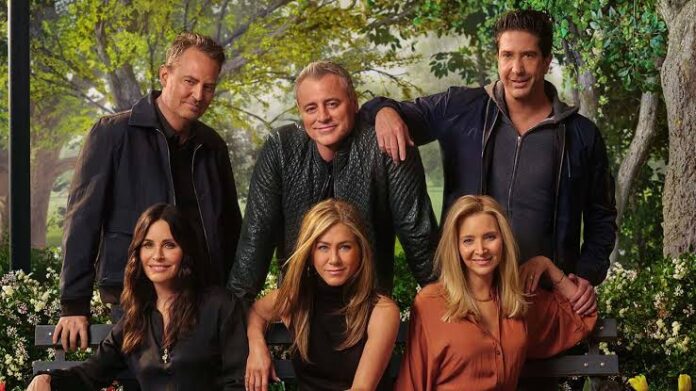 The trailer of the much-awaited show F.R.I.E.N.D.S reunion is now released. The trailer was on aired last night on the Internet.  And you might want "tissues" to see it.
On Wednesday, the official account of F.R.I.E.N.D.S put out the video of the trailer on its Instagram handle and inscribed, "Friends: The Reunion. THE BREAK IS OVER." The trailer stars the original cast of the sitcom namely Jennifer Aniston, David Schwimmer, Courtney Cox, Matthew Perry, Lisa Kudrow, and Matt Le Blanc, who played the roles Rachel, Ross, Monica, Chandler, Phoebe, and Joey respectively. In the video, the stars revisit the sets of F.R.I.E.N.D.S and recall their remembrances of the show.
While the whole clip is a pleasure to watch, it has some precious moments in it. In the video, the star cast fiddles the quiz game, just like their characters did in the show back then. David asks that Rachel wrote Ross a letter and urged him to read it before they got back together.
How many pages were that letter?" Matt replies, "18 pages." While David holds for him to finish the sentence, excited Jennifer says, "Front and back."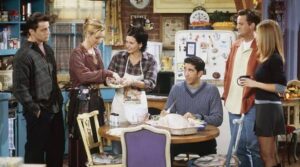 Jennifer Aniston and David Schwimmer conceding to the fact that "Ross and Rachel were on a break," is the highlight in the trailer of the F.R.I.E.N.D.S reunion.
"Everyone was so flawlessly cast in the show," says David Schwimmer in a scene and we completely agree. All of them read their respective scripts as they recall a few episodes such as "The One Where Everyone Finds Out." Lisa can be seen mouthing Phoebe's dialogue from the episode and it is so overwhelming to watch her say "My eyes.. My eyes!"
From their group hugs to getting sentimental on the sets, we see it all in the trailer of the F.R.I.E.N.D.S reunion.
We also see glimpses of Tom Selleck and Maggie Wheeler in a few scenes. While Tom played the part of Monica's boyfriend, Richard, Maggie was cast as Chandler's girlfriend Janice in the show.
Jennifer Aniston, David Schwimmer, Courtney Cox, Matthew Perry, Lisa Kudrow, and Matt Le Blanc put the trailer on their respective Instagram accounts. Jennifer wrote, "I love my friends Leaving this here…#FriendsReunion."
David's caption read, "How well does it feel to finally give that friend you haven't seen in years a big hug? Now multiply that by 5. Or 7 if you're Joey. Thursday, May 27th." Courtney wrote, "5-27-21 We'll be there for you…#friendsreunion." Matthew wrote, "We're back! I'm not crying, you're crying. There are more surprises where this came from…"
Also, Lisa and Matt shared the FRIENDS REUNION trailer.
F.R.I.E.N.D.S REUNION : LONG WAIT GOING TO BE OVER 
The reunion episode will go on air on HBO Max on May 27. The teaser of the F.R.I.E.N.D.S reunion was disclosed a week ago. The official Instagram handle of the show had posted the video on the platform. "The One Where We Get to See Our Favorites Back Together Again. The #FriendsReunion is coming on May 27 only on HBO Max," the caption read.
Apart from the main cast of F.R.I.E.N.D.S, we will also meet Kit Harington, Cara Delevingne, Lady Gaga, David Beckham, Justin Bieber, Cindy Crawford, James Corden, Elliott Gould, Larry Hankin, Mindy Kaling, James Michael Tyler, Reese Witherspoon, Malala Yousafzai, Thomas Lennon, Christina Pickles and BTS in special appearances.
F.R.I.E.N.D.S was first released on September 22, 1994. It completed a long journey of 10 seasons. And ultimately ended on May 6, 2004. It was developed by David Crane and Marta Kauffman.
SPIRAL REVIEW: EVEN CHRIS ROCK COULDNT SPICE IT UP; NOTHING NEW AND FRESH
Fans from all over the world are super excited to watch their favorite stars once again.