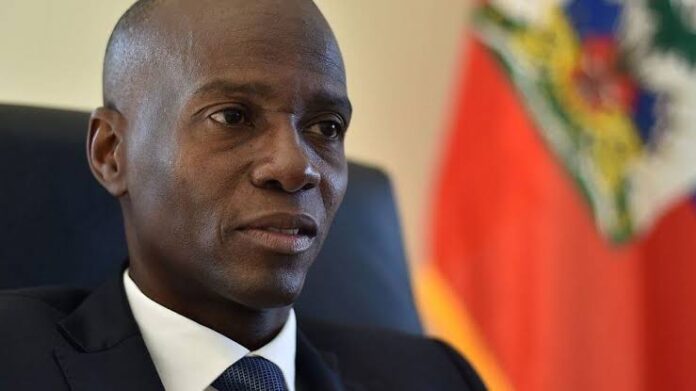 Gunmen assassinated Haiti President Jovenel Moïse and wounded his wife in their home early Wednesday, inflicting more chaos on the Caribbean country that was already enduring gang violence, soaring inflation, and protests by opposition supporters who accused the leader of increasing authoritarianism.
Claude Joseph, the interim prime minister, confirmed the killing and said the police and military were in control of security in Haiti, the poorest country in the Americas where a history of dictatorship and political upheaval has long stymied the consolidation of democratic rule.
While the streets of the Haitian capital, Port-au-Prince, were quiet Wednesday morning, some people ransacked businesses in one area. Authorities closed the international airport and declared a "state of siege."
The country appeared to be heading for fresh volatility ahead of planned general elections later this year. Moïse, 53, had been ruling by decree for more than a year after the country failed to hold elections and the opposition demanded he steps down in recent months, saying he was leading Haiti toward yet another grim period of authoritarianism.
Joseph said the gunmen spoke Spanish or English and were highly trained and heavily armed. But he gave no details on how the attack unfolded, telling the reason of arrestation.
It was a testament to Haiti's fragile political situation that Joseph, who was only supposed to be prime minister temporarily, finds himself in charge. Joseph was considered a protege of Moïse, and it was not clear how the opposition would react to his taking power. André Michel, one of Haiti's top opposition leaders, did not return messages requesting comment.
But Haiti appears to have few other options available. The Supreme Court's chief justice, who might be expected to help provide stability in a crisis, died recently of COVID-19.
Joseph is likely to lead Haiti for now, though that could change in a nation where constitutional provisions have been erratically observed, said Alex Dupuy, a Haiti-born sociologist who teaches at Wesleyan University in the United States.
The best scenario would be for the acting prime minister and opposition parties to come together and hold elections, Dupuy said.
Former President Michel Martelly, whom Moïse succeeded, said he was praying for first lady Martine Moïse, calling the assassination "a hard blow for our country and for Haitian democracy, which is struggling to find its way.
Haiti President Assassination Case 
Joseph said Martine Moïse, 47, was shot and in a hospital. He condemned the president's killing as a "hateful, inhumane and barbaric act.
U.N. Secretary-General Antonio Guterres also condemned the assassination "in the strongest terms" and stressed that "the perpetrators of this crime must be brought to justice," U.N. spokesman Stephane Dujarric said.
A resident who lives near the Haiti president's home said she heard the attack.
The U.S. Embassy in Haiti said it was restricting U.S. staff to its compounds and that the embassy would be closed Wednesday because of ''an ongoing security situation."
The White House described the attack as "horrific" and "tragic" and said it was still gathering information on what happened. U.S. President Joe Biden will be briefed later Wednesday by his national security team, spokesperson Jen Psaki said during an interview on MSNBC.
President Luis Abinader of the Dominican Republic met his top military and police commanders to discuss plans to reinforce security along the border with Haiti following the assassination.
It's too early to know exactly what will happen next, said Jonathan Katz, who previously covered Haiti for The Associated Press and wrote a book about the country's devastating earthquake.