A few pages into Once Upon A Time In Hollywood, Quentin Tarantino's novel based on his Oscar-winning film, Tarantino informs the reader that Cliff Booth, the stuntman played by Brad Pitt in the movie, once killed his wife. This is mentioned — offhandedly — in a chapter about Booth's beloved dog, Brandy. Given how the film shrouds this event in rumor and ambiguity, it is clear the book has been sharpened to scratch a different itch altogether. This novel may be a paperback, but, as its heroine might say, it is an "artful" one.
Tarantino seats readers alongside ageing television stars who want to be movie stars, sitting around drinking their insecurities, talking about actresses they bedded because they couldn't bed Elizabeth Taylor. This is a racy and ruminative novel, with cocksure opinions guiding straightforward prose. The language is unpretentious, coarse as the spoken word, yet occasionally gleaming with cinematic specificity. A furious character's face exploded "like a bad actor in a silent movie," and another, entranced by a film, "wanted to lick the screen." The late David Carradine, who played Bill in Tarantino's Kill Bill films, should have been around to read this book out loud.
Tarantino imagination in the book 
In the time-capsule of the film, two fictional characters — Booth and Rick Dalton, a washed-up TV actor played by Leonardo DiCaprio — cross paths with a real one: actress Sharon Tate, murdered by followers of Charles Manson in a horrific event that culturally signalled the end of the 1960s. Tarantino's revisionist climax, a critique of the escapism of the Hollywood ending, had Booth and Dalton killing the cultists to save Tate, played by Margot Robbie. For the book, this incendiary climax is a throwaway page. It is a brief flash-forward into Dalton's future, the hippie-killing turning "the former TV cowboy into a folkloric hero of Nixon's silent majority." He will become a regular on the talk show circuit.
Tarantino, an admirer of the novelisations that once accompanied popular movies, has borrowed the pulp form yet stayed clear of his trademark explosive sequences. Instead, he indulges what would be considered cinematic digressions: the long-drawn backstory of the pilot episode of a TV series, for instance, or the reasons why Cliff Booth outgrew Akira Kurosawa. Having created arresting characters who work in the movies, Tarantino uses plot almost as an aside while drifting in and out of Hollywood lore, both real and imagined.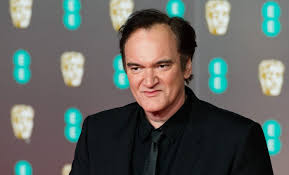 Reading Tarantino characters talk about movies is like having a drink with Sriram Raghavan. You don't know half the references, and you can't possibly keep up with the torrent of detail, but the facts are less the point than the infectious passion. And the reverence for stories behind the stories. In Salman Rushdie's The Ground Beneath Her Feet, a book about larger than life rockstars that spins its own alternate music history, Bridge Over Troubled Waters was a song by talented Carly Simon and the talented singer Guinevere Garfunkel.
GWEN STEFANI AND BLAKE SHELTON SECRETLY MARRIED
It is hard not to get swept up in this unironic love for the movies. A beautiful bit involves Tate (with, in true Tarantino style, a song continuing "to play in her head") as she goes to a theatre to watch a comedy she starred in. She wants to see whether, while working opposite a slapstick legend, she managed to fall down properly. The motive is pure as can be, and she is gratified by the audience reaction. "If she could have, she would have shaken all their hands and thanked them all individually."