Rebecca Mcbrain: If you have ever watched one of the breath-taking action movies the Fast & Furious franchise, if yes, you haven't probably forgotten Paul Walker's sudden and tragic death. The late Hollywood star was killed in a horrible car accident.
Although the actor was not married, Walker had a daughter Meadow Rain Walker with his ex-girlfriend Rebecca McBrain (aka Rebecca Soteros). Rebecca was living in Hawaii at the time of her ex's death but promptly, she moved to California to support their daughter at such a heart-breaking time.
Well, Let's find out, how is Rebecca's life going after the tragedy? Know about her relationship with her daughter Meadow who hasn't shared a single photo of her mother on her social media accounts. Many unknown details are mentioned here!
From where Rebecca Mcbrain is?
Rebecca Mcbrain is from California, she was born in 1974. She is the daughter of Mark Soteros & Julie Ann. Sadly, Julie, her mother passed away, at the age of 48 in July 2004. She grew up along with her one younger brother, whose name is Joshua.
Talking about her education, Rebecca Mcbrain attended Village Christian School & had done her graduated in 1992.
Rebecca McBrain is the Former Girlfriend of Paul Walker: They also shared a daughter.
The two began their relationship in 1998. Paul was a fresh face in the entertainment business at that time having a few projects under his belt.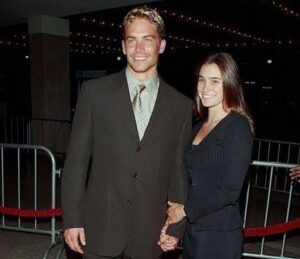 After some time in a relationship, the couple welcomed their daughter Meadow Rain Walker on 4th November of 1998. Sources say, soon after the birth of their daughter, Rebecca asked her then-boyfriend to get married but the actor wasn't ready at the time because of his rising Hollywood career. The duo then separated mutually.
Rebecca's Drinking Habit Reportedly Ruined her Relationship with Walker
Many sources reported that frequent arguments between Rebecca & Paul due to her drinking habit were the main reason behind their split. She was even arrested twice in the past for driving under the influence (DUI). Mark Soteros was first arrested for DUI in Newport Beach, California in October 2003. For the second time, Paul's ex pleaded guilty to the same case in Hawaii.
Meadow Rain Walker Spent Most of Her Early Life With her mother, Rebecca Mcbrain. At the time of their separation, their daughter was just a toddler. Meadow then spent a large part of her childhood with her mother in Hawaii but made her move to California to be closer with her father in 2011.
The father and the daughter shared a strong bond. Her actor dad also wanted to pause his busy acting career to become a full-time father.
He mentioned in an exclusive interview with EW, My heart was so desperate for many years with the situation with my daughter. She's living in Hawaii and I'm running here. My daughter lives with me all time now and she's the best partner I've ever had.
Moreover, Paul's dad Paul Walker Sr also explained his son's love for Meadow in an emotional interview with CBS Los Angeles.
He quoted his son's saying, he want to take a pause. She's just 15 and I don't have much time to be with her. And then boom, he got a movie. He may say, I don't know what to do.
The actor was also on good terms with his daughter's mom Rebecca who lived in Hawaii. Unfortunately, both daughter & father couldn't spend much of their time after Paul died tragically in the car accident.
Rebecca and Meadow's Life After Paul's Sudden Death:
The sudden and tragic demise of the actor shocked everyone but it mainly broke his daughter. He was attending the charity organization Reach Out Worldwide for victims of Typhoon Haiyan (Yolanda) when this tragedy happened. His daughter was also attending the same event at that time. But, Rebecca was in Hawaii, she flew to California soon after the incident happened to be with their daughter.
Meadow, his daughter posted an emotional message on her Facebook at that time, at the point when I was little he trained me to grin, encouraged me to walk, and helped me to never surrender. I love him even before I realized what love mean. He was only my saint. My REAL life legend! He will constantly stay in my heart! It brings attacks to my eyes as I compose this. Haven't arrived, yet at the same not neglected! R.I.P Dad!
Walker was in a car along with his friend Roger Rodas. In Santa Clarita, it crashed into a tree when Roger lost control.
After Walker's death, Meadow became the sole beneficiary of her father's belongings including a $25 million net worth.
Paul Walker's Mother Filed for Guardianship of Her Granddaughter, Meadow due to Rebecca's Alcoholic Addiction.
In March 2014, the late actor's mother Cheryl Ann Walker petitioned to be a legal guardian of her grandchild Meadow, stating the baby's mother had an addiction to alcohol. But, an insider told E! News that Rebecca is always a great mother and also shares a healthy relationship with her daughter.
"She just loves her. She has always been and will always be a good mother and there is not any reason for a change. She will fight for this, I'm sure until her last breath to be [Meadow's] mom. All she wants is her child."
But, a few days after Cheryl's filing, Rebecca told Cheryl about her quick decision to go to a rehab facility (a center or clinic where people with an alcohol or drug addiction are treated.) As per TMZ, the grandmother of Meadow then promised she would drop the case of guardianship if Rebecca could complete the program.
The net worth of Rebecca Mcbrain:
Rebecca Mcbrain's net worth is $250,000 in 2021. Other than that, there is nothing about her properties& wealth that belongs to Rebecca Mcbrain.